July 2017
Stockport's First Pride Event Sunday 30th July 2017 The event will be a celebration of the local lesbian, gay, bisexual and trans community in Stockport's Historic Market Place. The day will include entertainment, food and drink, traders, and local LGBT organisations. http://www.stockportpride.co.uk/
August 2017
Kay's Summer Weekend 3rd to the 6th August 2017 at the Cairn Hotel in Harrogate. The cost for the Friday & Saturday is to be confirmed. For more information contact Kay by telephoning 01582 416213 or emailing kay.west.online@gmail.com
September 2017
Northern Concord's 4th "Mid Week Summer Party" - Sunday 10th or Monday 11th to Wednesday 13th September 2017 - Our venue will be the Ringwood Hall Hotel in Chesterfield. Wonderful gardens, massive marquee, barbeques... Relax in your summer frocks as you stroll around the grounds of the hotel. The price remains the same as the last two years at £220.00 for Sunday, Monday and Tuesday and £165.00 for just Monday & Tuesday. Details can be found on the left of your screen.
TV Spectacular incl. Bridal Weekend 22nd to 24th September 2017 at the New Westcliffe Hotel in Bournemouth. £160.00 per person sharing, or £185.00 single occupancy. For more details contact Danielle by telephoning 01489 893451 or email ddan282739@aol.com
October 2017
Miss TV Scotland - CANCELLED SUE TO LACK OF SUPPORT - Friday 20th to Sunday 22nd October 2017, organised by Hide & Sleek Designs. For more information telephone Loraine on 01592 891344 or website at www.misstvscotland.co.uk.
Fun, Glamour and Mystery Weekend Friday 20th to Sunday 22nd October 2017, at the New Westcliff Hotel Bournemouth. Just £195 per head all inclusive for the 2 day weekend. Deposit of £25 per head to secure one of the 54 places. To arrange booking Email joyfairchild1@btinternet.com Additional Thursday and Sunday nights at the special all in dinner, bed and breakfast rate of £55 per head. Please book these directly with the New Westcliff Hotel, Tel 01202 551062 or Email reservations@newwestcliffhotel.co.uk The dress theme for the weekend is the glamorous fashion of typical lady guests on The Orient Express in its heyday – the twenties through to the fifties.
November 2017
Rose's Harmony Weekend - Thur 2nd to Mon 6th November 2017 at the Esplanade Hotel in Scarborough. Two nights for £TBC with options for Thursday and Sunday if required; for more information E-mail: roses@repartee.tv
December 2017
January 2018
February 2018
Northern Concord's "Le Big En Weekend 2018" - Dates confirmed - Thursday the 1st to Monday 5th February 2018 - Don't miss this one! The 26th weekend event; our venue at the Ringwood Hall Hotel just gets better and better, you and your wife or partner will be treated to lots of live music together with a great selection of food. Prices are £TBC.00 for Friday & Saturday and £TBC for Friday, Saturday & Sunday. You can add Thursday night on for just an extra £TBC.
March 2018
April 2018
---
Happenings Every Week
The WayOut Club Saturday 9pm to 3am - at Abbey 33 Minories), London EC3N 1DD Entry to the club is £10.00. For more information call their 24hour information line on 0208 363 0948. www.the wayoutclub.com
Pink Punters Nightclub - Every Friday, Saturday and Sunday 9pm till 5am. Big Night Out every 2nd Friday. 2 Watling Street, Fenny Stratford, Milton Keynes, MK2 2BS. Telephone 01908 377444 - Website www.pinkpunters.com
Please let us know if we can help promote your local event by E-mailing us or writing to the address below
To Contact Northern Concord write to:
The Northern Concord,
P.O. Box 258,
Manchester,
M60 1LN,
England
or E-mail JennyB@northernconcord.org.uk
The Northern Concord
is a completely voluntary organisation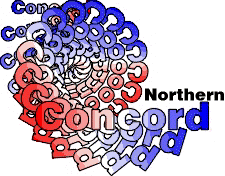 1987 - 2017
Working for the transgender community for the past 30 years