October 2018
Transliving Eastbourne Weekend - 12th to the 15th October 2018 at the Haddon Hall Hotel. The cost is £198.00 per person For more information telephone 01268 583761 or look on their website at www.transliving.co.uk
Martine Rose's weekend at the Dumbleton Hall Hotel, Nr Evesham, Worcestershire. Sunday 21st to the 24th October 2018. For two nights it's £184.00 or three nights £269.00 (prices are for double occupancy all single rooms taken) For more details contact Martine at email martine@repartee.tv
November 2018
Murder at Pinewood Friday 9th to Sunday the 11that the New Westcliffe Hotel, Chine Crescent, Bournemouth, Dorset. A TV murder mystery weekend. The cost is £205.00 per person. For more information contact Joy at email address joyfairchild1@btinternet.com
Transliving Weekend on the 30th November to 2nd December 2018 at the Laguna Hotel in Bournemouth, Dorset. The cost is £155.00 for two nights. For more information telephone 01268 583761 or look on their website at www.transliving.co.uk
December 2018
January 2019
February 2019
Le Big En Weekend at the '4 star' Ringwood Hall Hotel in Brimington, Nr Chesterfield from Thursday the 31st January through to Monday the 4th February 2019 - Don't miss this one! The 27th weekend event; our venue at the Ringwood Hall Hotel just gets better and better, you and your wife or partner will be treated to lots of live music together with a great selection of food. Prices are £185.00 for Friday & Saturday and £253.00 for Friday, Saturday & Sunday. You can add Thursday night on for just an extra £59.50. Single rooms are as always very limited and carry a £60.00 single supplement, so if possible bring your wife, partner or friend to share with.
March 2019
April 2019
MaY 2019
Danielles Weekend 10th - 13th May 2019 - at the New Westcliffe Hotel, Chine Crescent, Bournemouth, Dorset Details to follow. For more information contact Danielle on telephone number 01489 893451 or email ddan282739@aol.com Cancelled new hotel being sought
June 2019
July 2019
August 2019
September 2019
Northern Concord's 6th "Mid Week Summer Party" - Sunday 15th or Monday 16th to Wednesday 18th September 2019 - Our venue will be once more at the '4 star'Ringwood Hall Hotel in Chesterfield. Wonderful gardens, massive marquee, barbeques... Relax in your summer frocks as you stroll around the grounds of the hotel. The price will be £TBC.00 for Sunday, Monday and Tuesday and £TBC.00 for just Monday & Tuesday. Not to be missed.
---
Happenings Every Week
The WayOut Club Saturday 9pm to 3am - at Abbey 33 Minories), London EC3N 1DD Entry to the club is £10.00. For more information call their 24hour information line on 0208 363 0948. www.the wayoutclub.com
Pink Punters Nightclub - Every Friday, Saturday and Sunday 9pm till 5am. Big Night Out every 2nd Friday. 2 Watling Street, Fenny Stratford, Milton Keynes, MK2 2BS. Telephone 01908 377444 - Website www.pinkpunters.com
Please let us know if we can help promote your local event by E-mailing us or writing to the address below
To Contact Northern Concord write to:
The Northern Concord,
P.O. Box 258,
Manchester,
M60 1LN,
England
or E-mail JennyB@northernconcord.org.uk
The Northern Concord
is a completely voluntary organisation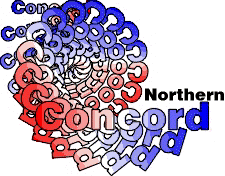 1987 - 2017
Working for the transgender community for the past 30 years