Classified Advertisements
Section A to F
Accommodation to Foundation Garments
A Free Service For
Northern Concord Members
and friends
---
Scotland
Ladies Night - My retreat is based along the North East coast of Scotland, I am 2 hours drive from Inverness and 1 hours drive from Aberdeen. Come along for a few hours to a few days, the choice is yours. Set deep in the countryside and in very private, beautiful gardens. Please feel free to email me for more information about our next coffee morning or a weekend retreat, I'm sure once you have been you will be back again. Email LadyVBibby@aol.com or telephone Tel: 01261 851178
Julie - We have a very safe location. My property is set in the country and its in 4 acres of grounds. My restaurant seats up to 24 and on certain nights during the month I plan to open it just the girls who cross-dress. I've been involved with the girls for years now and I've just opened a hairdressers, and the restaurant plus accommodation so it's the full package. I have many genetic female friends who help so it's nice and all non genetic females are made so welcome and are treated just like a genetic female. The wigs I offer are lace wigs and from real hair. They are made to measure and the buyer gets to pick the colour and length and then they're professionally made. They fit like a glove and are totally undetectable. My girl staying at the minute has one and with the correct glue it was glued to her head around the edges and she was able to have the full hair salon experience of wash, cut and blow dry. I'm north of Aberdeen I've been in this business now for over ten years so I know you'll have the best time ever. To contact me my email is jue1970@icloud.com or telephone 0788 4 200 143

---
Horoscope Readings - Computer generated, written by qualified astrologers. Character analysis and forecast. Birth date, time (state if approximate) and place required ideally, but can operate with just birth date only. No charge to Northern Concord members. Can compare charts for compatibility. Send birth data to Jo Hill, ScopeAstrol@AOL.com . Readings are 15 pages on average. Your readings will be sent to your email address, or to your home address if you choose.
---
Manchester
Churchill's, Chorlton Street
Eden, 3 Brazil Street
Napoleons Night-club Bloom Street
New Union Hotel. Princess Street.
Velvets. 2, Canal St. Tel 0161 236 9003
Number 1. Canal Street.
Via Fossa. Canal Street
Blackpool
Imperial Bar 69/71 Talbot Road. Nice friendly atmosphere, serves food all day but check up if planning on eating evenings(times vary).
Man Bar 25 Dickson Road. Very friendly mostly gay guests but is a mixed bar despite its name, Growler club upstairs (men only) Fri/Sat/Sun evenings only.
Peek-a-Booze 72/74 Dickson Road. Cabaret bar which is very popular but can be extremely loud. Entertainment on Fri/Sat and a drag show Sunday evenings.
Duke of York 60 Dickson Road. Popular bar serves food all day until 8.00pm with Karaoke entertainment Thur/Fri/Sat/Sun.
Ellies Lounge Abingdon Street. Newly re-opened & re-named, popular evening venue so far. Fri/Sat & possibly Sun.
London
Tootsies Tootsie's is a transgender nightclub in the basement of the 02 Bar/Restaurant, there is ample free parking so you can feel safe walking from your car, their is full use of a discreet reliable taxi service, Tootsie's is 10 minutes from Bethnal Green Tube Station and Liverpool Street Main Line Train Station and underground which has most underground lines, a No 8 or 388 bus service stops outside the 02 Bar.
02 Bar, 51 Bethnal Green Road, London E1 6LA. - E Mail adamandeve121@btconnect.com Telephone 0207 729 7447 Contact Address 121a, Bethnal Green Road, London. E2/7DG
Scotland
MsDemeanour - Edinburgh's No.1 TV night club, held on Saturday nights at The Phoenix Cellar Bar, 46 Broughton Street, Edinburgh. £4 for T-girls and £5 for ordinary mortals.

---
Eyebrowz Designs for cross dressers, https://www.eyebrowz.com/index.htm
and we specialize in eyebrow products to help clients get the brows they desire for the transformation.
Tricia Green for Beauty Treatments including Electrolysis, Body Waxing, Facials, Eyebrow Shaping, Hand and Foot Massage. Over 25 years experience. Based from the South of Manchester. Appointments by arrangement, Telephone Tricia on 0161 973 3131
Studio 75 - Failsworth, Manchester. We have a wide variety of treatments including waxing and intimate waxing, body treatments, facials, make up application and make up lessons, hair ups, colours and curly blow dries. We also offer full make overs and our fully trained and dedicated staff will give help and guidance to make you look and feel your best. Spray tans, Botox and cheek augmentation also available by appointment. Please contact Claire at Studio 75 Hair & Beauty in Failsworth for further information and bookings. We look forward to seeing you. Telephone 0161 312 3957, Studio 75, 75 Ashton Road East, Failsworth, Manchester, M35 9PW.
TransGlam - Discover a beautiful new you. Makeovers / make-up lessons, Lash & hair extensions / Gel nails. Professional discreet premises Telephone 0797 697 3551 - 0774 706 2540
The Wax-Factor - full intimate body waxing for men and women - 13 Coach Street, Skipton, BD23 1LH. Please phone or text 07824 999620 or email helen@thewax-factor.co.uk see our website at www.thewax-factor.co.uk
Serendipity - Beauty consultations, make-overs and make-up lessons. Telephone Helene on 07764 195020 or email helenesvinos@hotmail.com
PinkKat are Piroska and Gareth the fantastic transgender make-over specialists based in Manchester. From 1st August 2004 the pictures will be £19.95.There is NO obligation to purchase. For details of full make over and photo sessions,make up lessons and all the other services offered by PinkKat contact Gareth and Piroska at info@pinkkat.net We look forward to meeting you!
The Laser Hair Removal Centre - Bolton We are specialists in laser hair removal and we are proud to be the first to introduce the revolutionary LightSheer Duet to the Greater Manchester area. The LightSheer is specifically designed to remove unwanted hair faster, with less discomfort and more reliably than other methods. We offer a full range of hair removal treatments - from facial hair removal to full body hair removal. We provide a friendly and discrete service at very competitive rates. For a free, no obligation consultation call Penny on 01204 602693 alternatively you can visit the website www.lhrc-bolton.com .
Cristianos Laser Clinic with sites in Manchester, London, Leeds and Lancashire now offer hair removal from all body sites using the revolutionary Energist VPL suitable for most hair and skin types. We still offer free consultations and test patches. Call free phone 0800-0850661 or e-mail info@cristianos.co.uk. Visit our website at www.cristianos.co.uk
Pink Ladies Makeup and Beauty Treatments We offer facial/makeovers, manicures, nails extensions, eye brow shape, eye brow and lash tinting, eyelash extensions and Human or Fibre Hair Extensions. The range of products we use are 100% guaranteed, safe for sensitive skin are not tested on animals and can cater for all skin tones. We do either one to one appointments, group pamper parties, or workshops, where we can offer advice on makeup application and tips and techniques, we also retail the products and have a website https://www.marykay.com/ For more information or to arrange an appointment please contact Lavern or Limara 01606 41322
The Linea Clinic, Malvern offer a range of non surgical aesthetic treatments including IPL hair removal, fillers, muscle relaxants, skin tightening & rejuvenation and tattoo removal. All clients are invited to attend whenever is convenient for them, however we also offer 'discreet days' http://www.lineaclinic.co.uk/treatments/discreet-days for clients who would prefer to attend either alone or with their partners/friends when the clinic is quieter. We offer a free, no obligation initial consultation. We are healthcare commission approved and conveniently situated close to the M5. The Linea Clinic. 33 Graham Road, Malvern, Worcestershire, WR14 2HU. Telephone 01684 575701, email info@lineaclinic.co.uk, main website www.lineaclinic.co.uk
Massage, I am a qualified professional male masseur. I trained at the London College of Massage in 1995. I have been practicing ever since. Sometimes full time but more usually part time. I live near Plymouth. I am fairly 'mature' and because I have just completed a year working in Africa and six months working in London I don't have a therapy room at present but I belong to a local group of therapists who specialise in community based work. If you would like to get in touch please email me: peterfilby@hotmail.co.uk
Stacey Hull - Telephone number is 07825 669738, I work within the NHS and also privately at other surgeries and salons therefore I am able to take on clients from all over the country. My base address though is 3 High Street, Swadlincote, Derbyshire, DE11 8JG - my email address is stacey.hull@O2.co.uk.
Hot Wax Room - Based in Todmorden, the HOTWAXroom.com is a Beauty & Holistic Studio that specialises in male and female full body waxing (specialist trained for male waxing, including the popular male Brazilian wax (also known as the back, sac and crack, BSC or Boyzilian). I am happy to provide waxing services to the TG/TV and Cross Dressing communities. Allowing clients to experience smooth, hair-free skin for weeks, I provide treatments with a high level of professionalism. With the flexibility to book appointments late evenings, even up until 11pm for busy clients plus weekend and the usual 9.30 to 5pm service times. I use exceptional quality of pre and post waxing products, the finest products for the job which are gentle on the skin and leave very little or no redness at all. Clients visiting my studio can be assured of absolute confidentiality and professionalism. www.theHOTWAXroom.com
Strictly Waxing is a Professional Male and female full body & intimate waxing salon, we offer a discrete by appointment only service in a quite town just on the outskirts of Manchester that has lots of free parking. The Salon is a waxing salon only, that offers a wide & varied waxing treatment list. Strictly waxings female middle aged open minded staff are very experienced in waxing and have trained at the highest levels of waxing. We use Perron Rigot wax non strip for intimate areas and strip for larger body parts which offers the ultimate in comfort. Waxing is a instant hair removal! Need a smooth body for the weekend? Salon telephone contact number is 0161 724 5858 and check out our website at www.strictlywaxing.co.uk - our address is Strictly Waxing, 13 Stand Lane, Radcliffe, Manchester, M26 1NW
Spray Tanning service by Tanfastic. Hi My name is Kevin, I am a gay, male tanning technician, based in Atherton (postcode M46) and I offer a discreet, non-judgemental service to all. For that special occasion or to just help you feel and look good, why not get a lovely all over tan, the price is just £15 if you visit me.
However if you want to make a bit of a social event of it and invite a few close friends over, I can offer a mobile service for 3 or more people, the cost would then be reduced to just £13 per tan.
I am fully qualified and have very good reviews, however I do work full time and offer this service now on a part time basis. For information and Q & A please see my website www.tanfastic.vpweb.co.uk
or to book/speak to me call 07817 85 89 28 (if I am busy please leave a message).


Bodyline at Divine Beauty - Glasgow - Tel 0141 883 8281
Eternal Beauty by Nina Clements of Doncaster, South Yorkshire offers a confidential, discreet advice / treatment on Facial Aesthetics for Wrinkle Reduction, using either dermal fillers or botox. For advice or to arrange an appointment, which can be held at a venue / place of your choice or in my salon email me on nclemfirstcont@aol.com. This will help improve the appearance of your face, reducing lines and enabling your makeup to look smoother and more professional, so if you think this is what you need, contact me and lets have a discussion on how I can help. Hope you speak to you soon. Nina
HD Brows and Nouveau Lashes at Mozo Estetica - Rosi has a first class reputation as an eyebrow and eye-lash artist and will take her time to give you the best possible result. As an HD Brows Technician she will take into account your face shape, hair growth, personality, age, and expectations to design the best brows for you. It is not a set or standard shape. It's individually designed and often requires aftercare and re-growth. Nouveau Lashes are semi-permanent eye-lash extensions which last 7-10 and look stunning and natural. A must for a special night out! HD Brows And Nouveau Lashes are the celebrity must-haves without the celebrity price-tag at only £25 per treatment. We are located at North Cave, East Yorkshire. Call Rosi on 01430 422521 or 07772 510617. Website: www.mozoestetica.com
Springfield Beauty Salon - 19 Barstow Square, Wakefield, WF1 Telephone: 01924 360958.
Entrans - Make-overs and beauty treatments in South Yorkshire. Contact us by emailing andrewwgstff@aol.com
Face 4 Make-up by Victoria Fletcher. - Professional make-up artist for all special occasions, Beauty therapist and Nail technician. Contact: face4makeup@btinternet.com Telephone 07879 616696 or write to Victoria @ Face 4 Make-up, 16 Hallam Grange Rise, Fulwood, Sheffield. S10 4BG.
Waxed Off is a discreet waxing studio based in Leeds offering a comprehensive waxing service. I have trained in the most advanced waxing techniques including intimate waxing for males and females, such as Brazilian, BSC (Back, sac and crack) and boyzilian. I also offer full body waxing from your brows to your toes and everything in between...and I do mean everything!
As a more mature lady I can guarantee you a professional and welcoming environment for your waxing appointment. I am delighted to welcome TG/TV and cross dressing clients.
I am available strictly by appointment only. My premises are discreet and there is parking outside the door.
The Workz - 10, Bastion Road, Prestatyn, Denbighshire LL19 7ES. Hairdressers, barbers, Beauty Therapists and suppliers of Quality Wigs and a range of clothing at very reasonable prices. You are welcome to come along anytime but if required discreet out-of-hours appointments can be arranged.
Telephone Jayne on 01745 856816
Butterfly Beauty - For all your beauty treatments from manicure to waxing. located in Wrexham. Telephone 07870 371369
I am a professional Aesthetic Cosmetician specialising in remedial skin camouflage techniques. I use specialised creams to disguise and conceal skin disorders, discolouration, post-operative bruising, scarring, etc. If you take a look at my website at www.valross.com. you will be able to see for yourself the areas that I cover, but I also feel that my services could be valuable to many of your members, as I can also advise on make-up techniques and application, which is particularly important when using products like these. Contact - Val Ross, Aesthetic Camouflage Practitioner, 31 Rodney St., Liverpool, L1 9EH, UK – Telephone 0151 703 2900 or mobile 07811 124681.
Decorus Beauty. I have been working as a mobile beauty therapist, under the name Decorus Beauty, for some years, offering my clients a discreet service in their own homes. I am qualified in many different therapies including nail extensions / false nails, manicure, pedicure, make up and waxing. I am based in the East London, South West Essex Area. I can be contacted on Tel: 07786 361 968 for information or appointments: Angela
Smooth-Touch - Permanent Hair Removal. Mobile service available ( Kent , Sussex & S.E.London) All Areas treatable. Men & women welcome. Free initial consultation. Telephone 01732 763250 or 07740289928, or look on our website www.smooth-touch.co.uk
Sara Thomas - Electrolysis and Beauty Treatments. Telephone 020 8933 6487. I work with up to date technology in Electrolysis called Apilus and my website address is www.gendertransitions.co.uk. My email is mail@gendertransitions.co.uk.
EpilSoft Electrolysis Clinic : Electrolysis is the only proven method of permanent hair removal for any hair or skin, anywhere. Using the powerful computerised Apilus electrolysis machine and best quality Ballet gold or insulated probes enables permanent results quicker and more comfortably than ever before possible. Situated on the Surrey/W Sussex border just south of the M25 the Clinic is within easy reach of London and the South. - http://www.epilsoft.co.uk/electrolysis_for_transsexuals.html
---

How to find miss perfect- a guide for cross dressers
Why I wrote this book... Many people have asked me why I have written this book.
There is a reason and it's not financial.
I know a lot of doctors: psychiatrists and family physicians. I have asked them all about the suicide rate among cross dressers. At this moment in time there are no published studies, as far as I can see, on this subject.
However on discussion with these doctors and telling them the plight of cross dressers all agree that the risk of suicide among cross dressers is much higher than that of the public. The major reason being the loneliness and the isolation. Nobody should ever feel so low as they want to try and end their lives.

I wanted to do something about it. Cross dressers are a group of much unloved people but they have so much love to give. As you read this book you'll see how the lives of many women have been enriched by their partner's dressing. You all have so much to give us girls some may say that you are being selfish by denying some poor girl your wonderful gift.
During the course of my research I have found many women (who are increasing in number) who long for the warmth and love of a cross dresser. You'll read of several in the book.
When you read this book hopefully you'll see what you have to offer these women and how many women there are who long for you.
I wish you every success in finding miss perfect because I assure you – she's longing for you.
To obtain a digital download go to https://sellfy.com/aff/cVSlR4/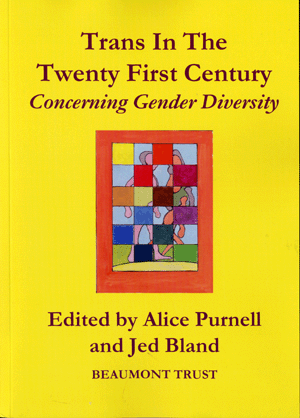 Trans In The Twenty First Century
(concerning gender diversity)
Edited by Alice Purnell & Jed Bland
In the thirty or more years that the Beaumont Trust has been listening to and helping transgender people, it has seen many changes. Not only has the distinction between male and female become blurred, but so as has that between the cross dresser and the transsexual.
In this book we are reviewing the situation of trans in all aspects, how the situation has changed in the last 50 years and what may still need to be done.
Published by the Beaumont Trust: write to Beaumont Trust, BM Charity, London, WC1N3XX.
ISBN 978 09521357 7 7 - for price details email beaumonttrust@gmail.com
Highly Recommended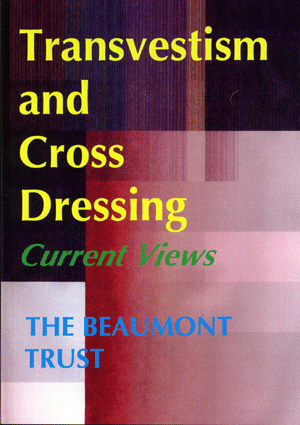 Transvestism and Cross Dressing.
Towards an Understanding
Edited by Jed Bland
"Why do I like dressing in women's clothes?" "Why does my husband want to dress in my clothes, use my jewellery - my make-up?" These and a host of other questions are asked by transvestites themselves and by their loved ones. Public perceptions are formed by a generally unhelpful portrayal by the media, while textbooks inevitably approach the subject from a pathologising viewpoint.
This book is a collection of articles by professional writers and by participants in this much misunderstood activity. It aims to answer some of the questions in a more detailed manner than is possible on the helpline, while being non-directive and non-judgmental - and without being an apologia.
Chapters include:
| | |
| --- | --- |
| Transvestism - The Last Taboo | Transgender and the Law |
| Why Does Transexuality Exist? | Personally Speaking |
| So, What is a Transvestite? | A Cure for Transvestism |
| TV, TG, TS - What's in a Label? | Relatively Speaking. |
| Are you a cross-dresser or a transvestite? | Help and Support for Transvestites. |
| In the Closet | Coming Out |
| The Internet Influence on Transfamilies | The First Time |
| Sexuality and the Transvestite | Passing. |
| The Academic View of Transvestism | The Joy of Transvestism. |
| Getting Referred | Into the Open |
| Gender and Cross Dressing across Time and Culture | The Police are Only Human |
| Transvestism, the Church and the Law. | Dangerous Delusions |
| Transvestism and the Church. | |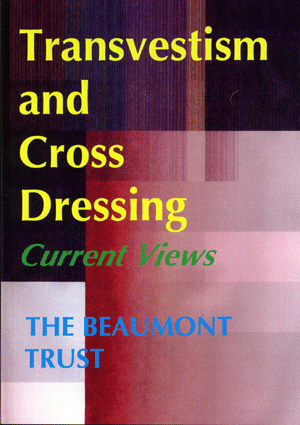 Published by
The Beaumont Trust,
BM CHARITY,
London WC1N 3XX.
Price £12 plus £1.50 p&p
Paperback - ISBN 0 9521357 6 0
Cheques made payable to "Beaumont Trust" please
All proceeds to the Beaumont Trust, a non-profit registered charity.
The International Transgender Conference 2003 Full Report (Still pertinent & still available)
Although this report is now eleven years old the information it contains is still applicable today as it was then.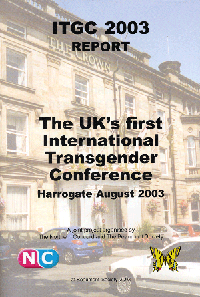 The report is an A4 booklet explaining what happened and who said what at the International Transgender Conference held in Harrogate in the August of 2003.
Jointly promoted by the Beaumont Society and the Northern Concord,
with workshops and papers presented by The Crown Prosecution Service, Hertfordshire Police Diversity Unit, a Gender Psychologist, as well as representatives from the Trans Community in Australia, The Netherlands,
Ireland, the United Kingdom and the United States - well worth a read.
The cost of the booklet is £5.00 plus £2.50 postage and packing (in UK).
Send your name and address and a cheque or postal order
made payable to "Northern Concord" to:
Northern Concord,
P.O. Box 258,
Manchester,
M60 1LN,
England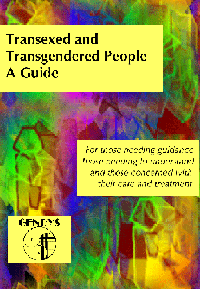 Gendy's Alice Purnell has a new book available "Transexed and Transgendered People a Guide" Copies can be obtained from Gendy's by writing to Gendy's Network, BM Gendy's, London, WC1N 3XX or take a look at their website at http://www.gender.org.uk/gendys/index.htm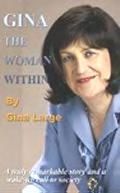 Gina: The Woman Within by Gina Large
ISBN: 0-9544352-0-6
'Gina: The Woman Within' tells the truly remarkable story of the writer's traumatic and reluctant, but inevitable, transgender journey of discovery, after a lifetime spent running away from herself.

Available to order through www.amazon.co.uk or through all good UK bookshops or direct from publisher (post free worldwide) details at: http://www.thewomanwithin.me.uk/4667.html

Tales of Cross-dressing written by Kate Lesley. For more details check out their web site at http://www.fantasyfiction.com .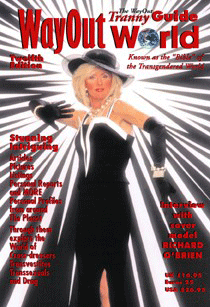 The Tranny Guide Number 12
THE 12th TRANNY GUIDE ..... IN STOCK NOW
Yes the latest edition is now available. This edition has more colour, more pictures, more reports than ever before, in fact there is 336 pages. UK listings have been thoroughly updated. It does not seem possible but this is the best ever.
£16.95 including postage and packing UK (add £1 for Europe and £2 for the rest of world postage rate) from Way Out Publishing Co. Ltd, P.O. Box 70, Enfield, EN1 2AE, UK.
You can order by telephoning 07778 157290 or faxing 0208 366 0517 or by emailing sales@wayout-publishing.com
Safer Planet Sex - The Handbook. eight pounds, ninty nine incl. p&p from Tuppy Owens, P.O. Box 4ZB, London, W1A 4ZB.
Men In Dresses
The Path to Male Emancipation
Crossdressing
All written by Vernon Coleman and priced at nine pounds, ninty five each incl. p&p from European Medical Journal (books) Publishing House, Trinity Place, Barnstaple,Devon, EX32 9HJ.
Vernon also has a web site where you will find the complete text
of "Men in Dresses" available for free downloading.
www.vernoncoleman.com - read the book for free! How's that for good value?

Books by Sheila Kirk MD from Lifeworks UK., PO Box 6566, Sutton Colfield, B76 9QZ. Send for list and information.
An A-Z Guide To Crossdressing compiled by Carol Taylor. £6.50 per copy including postage and packaging, available from Crosslynx, c/o GGLL, 11 Dixon Street, Glasgow, G1 4AL, all proceeds to Crosslynx funds.
Something to Confess by Karen Adler - My story, 'Something to Confess', is written from my perspective as a woman whose husband finally told her the truth about his cross-dressing preferences after 10 years of marriage. It is an honest and heartfelt account of my journey from the moment he told me to final acceptance and enjoyment of the transvestite lifestyle. The link to the book is as follows: http://www.amazon.co.uk/dp/B008BI8GQS
"Something to Confess," by Karen Adler, is a short, well-written, quick read (105 pages) available in Kindle (e-book) format only on Amazon. It is the autobiographical account of a 40ish-year-old English married couple and how the husband's out-of-the-blue confession to his wife that he is a cross-dresser impacts their relationship. It is told by the wife, based on a journal she kept as she worked through the early days of coming to terms with this revelation. It is intelligent, insightful, sometimes heartbreaking, sometimes heartwarming, and sometimes funny (darkly, ironically, or straightforwardly, depending on the episode); also brave and honest.
It also rings very true; while I'm not married and never had to confront any of these issues, I am also a lifelong TG with 20 years' involvement in this community, and have heard similar stories told and concerns expressed many times over. The outcomes vary wildly because couples are all made up of unique individuals with their own personalities, tastes, values, turn-ons and turn-offs, and also because some partners (both male and female) handle the situation more tactfully and sensitively than others.
For the Adlers, things went well because Karen found ways to not only adjust to her husband's "Annie" side, but to embrace, enjoy, and celebrate it...all within certain bounds and constraints while husband Mark learned not to push too hard, too fast, and paid attention to his wife's responses both positive and negative. This is a "best case" outcome that turned out that way because both partners worked hard to show mutual respect and support, neither focusing solely on their own wants and needs.
The author works hard to be completely honest, neither overly critical of herself or her husband nor completely uncritical of either, she concludes with a somewhat mixed verdict that, like the rest of the book, rings true. She has found that this new dimension of their marriage provides opportunities for growth, exploration, sharing at newer and deeper levels than before, more fun, and in some important ways a fuller, richer, relationship. But at the same time, part of her wishes it had never happened and just wasn't there, because of the high cost of learning to cope with all the pressures, confusion, roller-coaster emotions, and plain hard work that it took her to get to that place.
I would heartily recommend it for any cross-dressing husband or spouse/partner of such. It may or may not provide any concrete answers to specific dilemmas faced by similar couples, but it could stimulate a helpful discussion between them, if such a thing is possible. – Tilda Ampersand, River City Gem Group



Middleton Plastering - Plastering, bricklaying and general building work carried out in Lancashire/ Yorkshire/ Manchester area. For a discreet and professional service provided by builder, himself a crossdresser call 07856 144938 or email auntieivy@tiscali.co.uk .
Fully Qualified Electrician based in the north Liverpool area, very discreet and very understanding (so I won't get a shock if your wearing a frock, in fact I may just ask were you got it from) professional service for electrical repairs in the home, extra sockets, lights, etc, no job too small, very reasonable rates and free estimates, call me on: 07900 342118 or email on: paula_and_gill@yahoo.co.uk
Transition plastering and tiling, quality plastering and tiling at reasonable rates. Based in Leeds but willing to travel. Call Richard / Rachel on 07856430601 for Quote or email rich177@live.co.uk
Leeds based approved electrical contractor, cd/tv, for a discrete and understanding service. Happy to travel. Please call Mike or Mika on 07950 588915

---
Mobile Motor Mechanic - 24 hour Breakdown-service - Don't be stuck when you've got a frock on. (Concord member). Stoke-on-Trent.
Tel 01782 722767 or 0973 374181

---
Tricia Green MSSCh MBChA
Registered Member of the British Chiropody Association.
For expert treatment plus many more beauty treatments. Over 25 years experience. Based from the South of Manchester. Appointments by arrangement,
Telephone Tricia on 0161 973 3131 or mobile 07712 317 059
Selina Jones Chiropody and Podiatry @ Laser and Cosmetic Centre, St Andrew's Court, Bolton 01204 370265

---
MCC Manchester - Welcome to our church. We are part of an international denomination which is the largest lesbian / gay / bisexual / transgendered organisation in the world with around 42,000 members in over 250 congregations across 23 countries.
In Manchester we meet in the Church of Saint John Chrysostom, about 2 miles south of the city centre along Princess Street / Upper Brook Street / Anson Road at its junction with Oxford Place and Daisy Bank Road, and we offer a warm welcome to our services and meetings. Our main service is held on Sunday afternoons at 4.00pm. Our Sunday service is designed to be celebrative and to appeal to folk from a range of different church backgrounds as well as to those for whom spirituality is new.

We are a friendly church and after worship - which usually lasts just one hour - we invite everyone to join us for refreshments and fellowship. To contact us by post: You can send mail to: Metropolitan Community Church of Manchester, PO Box 19, Manchester, M34 3XF. United Kingdom.

By telephone: You can call us at our church office. We operate a voicemail service on this number whenever the office is not staffed. Messages are retrieved and dealt with regularly: 0161 249 0649 (International: +44 161 249 0649) By email to: Pastor: The Reverend Andy Braunston: revandy@mccmanchester.co.uk

Liberty Church is an inclusive Church in Blackpool welcoming LGBT people and all who affirm them. We aim to offer a trans friendly environment where trans people can join in our worship services dressed in the way they feel comfortable. We are working with Andy Braunston at MCC Manchester. An inclusive church that welcomes everyone who celebrates the diversity of Lesbian, Gay, Bisexual and Transgendered people. Contact Nina Parker through the website at www.libertychurchblackpool.org.uk

Links to other church information

Anglican LGBT Service - Basically, its a traditional Anglican Holy Communion (Eucharist) service and is held at 5.30 pm on the first Saturday of each month at St Chrysostom's Church, Anson Road, Victoria Park, Manchester, especially for the LGBT community. It is sometimes taken by local clergy and sometimes by clergy from the 'community'. Music is a mixture of traditional and modern hymns (the standard of singing is rather good !). Refreshments are provided afterwards. It is held in the same building that is used by the Metropolitan Community Church, but is not run by the MCC.

Details about the above service can be accessed via www.manchester-diocese-lgbt.org/home
---
Cross Talk. Issue 86 Now Available - £6.00. incl. P&P. The Northern Concord, P.O. Box 258, Manchester M60 1LN -
(We recommend it - we should we print it!)
The Eonist Digest Produced by Danielle in the south of England - A4 size - send 5 first class stamps for sample copy. Write to The Eonist, O.O. Box 11, Swanmore, Hants. SO32 2ZU.
Transliving International: TV, TS, CD, TG lifestyle magazine, 84 pages of all things Transgender. Full colour, great photo features and articles, adverts, events, personals and more..... Latest magazine plus info pack for only: £7.99 (£10 outside UK) Transliving, P.O. Box 3, Basildon, Essex, SS13 3WA

---
Hadrian Munro bespoke Image Consultant and Fashion Stylist. With over 25years beauty and Image Consultancy experience. I offer a 1-2-1 bespoke packages to help you achieve your protential as the real you. My Master Classes are designed and tailored specifically with you in mind. Face to face or remotely. I will help you with all aspects of achieving a convincing male or female. Please contact myself for more information and let me help you in your journey of discovery. Email me on hadrianmunro@gmail.com
Manchester - Preston - Lancashire
My Sewing Box - bespoke dressmaker/designer in central Manchester" - Thorniley Studios (12-22 Thorniley Brow Manchester M4 2AJ) Telephone: 07890 101727 - Bespoke bridal, party and costume designer and dressmaker. Custom wedding dresses, prom, ball gowns, frocks, costumes. Shop open by appointment only. Manchester city centre (England). Check out our two website at www.mysewingbox.com
Hendrika Van Maassen,You'll love your clothes when you have them hand-made by us at Hendrika Van Maassen. We have the knowledge and the experience to provide you with unique designs keeping only you in mind. If you have seen a design and want to own it, simply let us know. We can provide you with exactly the same or even make it better with your ideas. Whether you need alterations or want to choose from our Riekie TM range, we are happy to help. For more information, get in touch with us today. Telephone: 01772 864 004 or Email: hendrika1st@hotmail.com We're at 161 Lightfoot Lane, Preston, PR4 0LA
Doreen Fashions, Supplying the transgender community since 1953. - Daywear, nightwear, lingerie, boots and shoes at very good prices. Contact Doreen Fashions on 020 8539 4578. The web site is at http://www.doreenfashions.com

Translife Supplying the transgender community with great quality goods at the right prices. Please take a look at their new web site at http://www.translife.co.uk We are located at 35 Brunswick Street West, Hove, East Sussex, BN3 1EL - or telephone 01273 779467
?
Evans Ltd. The Evans clothing store has it's own on line ordering service, from top to toe including shoes. The shops are in most High Streets throughout the country, but for a bit of privacy if you need it try their mail order system. Their web site is at www.evans.ltd.uk
Get The Right Fit - We have created a very comprehensive public interest website: www.gettherightfit.co.uk focused on how to get the correct fit for whatever you use. We don't make profit from the site but we'd like to spread the word and get the information out to as many people as possible.

---
Coventry & Surrounding Areas
Pins & Needles
Hi, My name is Gurmaz, I am a seamstress and have been doing clothing alterations for over 25 years and have done some dresses for a member of your community. I would be very happy to help with any type of garment alterations for you. I am based in Coventry and it is a drop off and pick up service that I provide from home. The turn around is usually a few days (or sooner) depending on the time of year! If you would like to visit my website
www.pinsnneedles.co.uk
, my facebook page or google pins and needles then you can read the reviews people have written and you can come to me with confidence knowing I will do the best job possible.
Manchester - Preston Area - Lancashire
Hendrika Van Maassen,You'll love your clothes when you have them hand-made by us at Hendrika Van Maassen. We have the knowledge and the experience to provide you with unique designs keeping only you in mind. If you have seen a design and want to own it, simply let us know. We can provide you with exactly the same or even make it better with your ideas. Whether you need alterations or want to choose from our Riekie TM range, we are happy to help. For more information, get in touch with us today. Telephone: 01772 864 004 or Email: hendrika1st@hotmail.com We're at 161 Lightfoot Lane, Preston, PR4 0LA
Fiella - Dress-makers. They make the costumes for the performers at "Funny Girls". They make made-to-measure clothes, underwear, corsets and shoes. They also have a ball-gown hire service.
Telephone 01253 301881
Alter-it. Heckmondwike, West Yorkshire Alterations and repair work to all your clothes, everything from a simple zip in a skirt through to making you a complete wedding dress from scratch. A friendly and discreet service. Telephone Deborah on 01924 411511 during normal shop hours.
Cathouse Design Studio, Bennett & Thornes Building, Bennett Street, Millbridge, Liversedge, West Yorks. Caroline
Tel 01924 412662
Backstage Dancewear Designer and dressmaker, moderate charges. Mail order or by discreet appointment. Telephone 01472 698990
Carolyn D a designer who specialises in beautiful 'made to measure' clothes for the discerning client. Very friendly, discreet service for all our gentleman clients. All shapes, sizes and tastes are welcome and indeed catered for. For an idea of designs visit www.drapiere.com ' Please call Carolyn on 0208 2888 919 for more information.
Hide & Sleek TVs made most welcome - Made-to-Measure garments, Lingerie, Shoes, Wigs, etc. Fife.
Tel./ Fax Lorraine on 01592 891344
Chrissy - . I am a qualified computer engineer and I offer all computer related services, including IT tuition. If you would like more information regarding the services I offer, I can be contacted on:- 07913 693539. I try to cover the West Midlands, specifically, Wolverhampton, Dudley, Birmingham and Walsall. I will also try to cover surrounding areas if possible and economical to do so.

Psychologists, Counselling & Psychotherapy
The Counselling Directory: The purpose of the site is ultimately to provide the UK with a huge counselling support network, enabling those in distress to find a counsellor close to them and appropriate for their needs. This is a free, confidential service that will hopefully encourage those in distress to seek help. The website also contains a number of sections on emotional disorders (types of distress section) and provides some useful statistics. Every counsellor on the site who has submitted their profile has either sent a copy of their qualifications and insurance cover to us, or is registered with a professional body online with recognised codes of ethics and practice, this way we can be assured of their professionalism. www.counselling-directory.org.uk.
Dr. Penny Lenihan BSc(Hons).MSc.PsyD.Couns.CPsychol Consultant Chartered Counselling Psychologist - The Heath (Private), 27 Avenue Mansions, Finchley Rd, London, NW3 7AX. - email: couns.psych@ntlworld.com. Appointments: 07732011445.
Charing Cross Gender Identity Clinic (NHS), Claybrook Centre, 37 Claybrook Rd, London W6 8LN. - Tel: 0207 3861348.
Tina Livingstone - Offers non- judgemental and caring counselling; nurturing personal growth at the client's own pace. I offer transition at work support nationwide and now offer distance counselling online and by phone.Tina has a Diploma in Client Centred Therapy - (BACP Accredited Course) Person Centred Supervision Diploma B. Ed Hons. Standard individual appointments last an hour, and take place within comfortable counselling rooms in Southampton. Should you wish to make an appointment please telephone 07814 492690, or contact me by email at tina@tgfact.co.uk . See the website at www.positivebeams.com
Dr. Russell Reid M.B., ChB, FRC Psych. - Dr Russell Reid is no longer available.
Kenneth Demsky, Ph.D. A private practice specialising in gender and sexuality issues.
Flat 2, 10 Langland Gardens, London, NW3 6PR.
Telephone: 0207 435 6116 - website at www.drkennethdemsky.co.uk
Inner Calm Confidential and non-judgemental Counselling for all issues, Reiki and Crystal therapy, Belly Dance and Inner Goddess workshops. Please telephone me for more details - Sue 07835303680 or email me at samorris@talk21.com
Steve Wilson; Psychotherapist (D.H.P. (Diploma in Hypnotherapy and Psychotherapy). Member of N.H.C. (National Hypnopsychotherapy Council). As such, bound by their Code of Ethics, and fully insured. I concentrate my work in the broad area of gender identity…because this has been my predominant issue personally, in my life. Empowering, non-judgemental help will enable you to become fully yourself. Evening and Saturday appts. available. Also telephone sessions, by arrangement. In complete confidence, either phone me on 01535 633461, or email stevieweavie@tiscali.co.uk . Dale End Mill, Lothersdale, Nr.Keighley, W.Yorks BD20 8EN
Gender Essence - Belfast - We at Gender Essence are committed to providing a safe and confidential space to explore your life and how it impacts on you socially, mentally, physically, and spiritually. Moreover, we are especially interested in aiding people who are experiencing issues around gender and sexual identity including loss and grief, depression, self esteem loss, relationships and most significantly our identity of self. Email: Mail@genderessence.co.uk . Phone: 02894 469 857 (Admin 1-3pm)
Katrina - Clairvoyance - Mediumistic Readings - Hypnosis, including past life regression sessions. Based in North Wales. For more information and appointments telephone 07780 914541
Life Coach Directory - The purpose of the site is ultimately to provide the UK with a huge life coach support network, enabling individuals to find a life coach close to them and appropriate for their needs. This is a free, confidential service that will help those seeking a new direction in their life to find the encouragement they need. Every life coach on the site who has a full profile has either sent a copy of their qualifications and insurance cover to us, or is registered with a professional body with recognised codes of ethics and practice, this way we can be assured of their professionalism.
For further information contact:
emily@lifecoach-directory.org.uk
or check out their website at
http://www.lifecoach-directory.org.uk
- Telephone: 0844 3760 135
Hypnotherapy Directory -
Hypnotherapy Directory was launched to connect individuals with qualified professionals in the UK. We offer information about what hypnotherapy is, how it can help, upcoming events, articles written by professionals and the latest hypnotherapy news.
To ensure the professionalism of our members, we require proof of their qualifications and insurance cover, or proof of professional body membership. This is crucial to providing a website that can be trusted by the public.
www.hypnotherapy-directory.org.uk

---
Guys to Girls, Manchester - Dreaming of becoming a beautiful girl? Then let Deborah, turn your fantasy into reality! Makeovers, luxurious facials, escorted shopping trips, one-to-one dressing service, fantasy role-play. Just a fun time to be to be pampered and enjoy! Discreet location, with private parking, minutes outside Manchester city centre, close to Metro link. For more information call Deborah on (07739) 079559 website at www.guystogirls.co.uk
Studio 75 Failsworth, Manchester. - We pride ourselves in tailor made dress up days, whether its a late afternoon or a Sunday, we can close our beautiful new salon, numbers depending and let everyone feel at ease to relax and express themselves. We have a wide variety of treatments including waxing and intimate waxing, body treatments, facials, make up application and make up lessons, hair ups, colours and curly blow dries. We also offer full makeovers and our fully trained and dedicated staff will give help and guidance to make you look and feel your best. Spray tans, Botox and cheek augmentation also available by appointment. Please contact Claire at "Studio 75 Hair & Beauty" in Failsworth for further information and bookings. We look forward to seeing you.
Telephone 0161 312 3957. Studio 75 - 75 Ashton Road East - Failsworth - Manchester - M35 9PW
Dress Me Up - Dressing Service for more information email Jo at jj@dress-me-up.co.uk
Eve Strattins - Image & Style. London - A discreet premises based in south-east London, they offer an honest and respectful dressing service to the discerning client. Dressing service (no role play), make-overs, wedding service. From one hour to overnight to a weekend stay. Social evening Monday's between 7pm and 9pm. Eve Strattins, 144, Marvels Lane, Lee, near Grove Park, London SE12 9PG.
For more information telephone 0208857 9297 during opening hours - Monday to Friday 10am to 3pm and evenings and weekends by appointments.
Adam & Eve Dressing Service - London's Friendliest Dressing Service.
Email adamandeve121@aol.com or go to the website at www.adamandeve121.co.uk ,
or telephone 0207 729 7447. We now have 2 venues running in London called Club Evolution this runs every Wednesday at the Copyright Club 110, Pennington Street, Wapping London E1 for more info visit www.clubevolution.org.uk Club Evolution also runs the 2nd Saturday of the month at The Last Bar 73, Shoe Lane, London EC4
The Boudoir - Now operating from a brand new and spacious studio in North London. We offer unrivalled makeovers, photo shoots, and escorted trips. Email info@theboudoironline.com Telephone 0208 211 1666 Web site at www.theboudoironline.com
Ladies Night - Come along and try a wide range of clothes, wigs, boots and shoes, try as many on as you like, have your photograph taken and enjoy yourself. The day is yours and it will based and planned around you and you only. I am a fully trained beauty therapist and will apply your makeup, show you how to do this and offer beauty tips. My retreat is based along the North East coast of Scotland, I am 2 hours drive from Inverness and 1 hours drive from Aberdeen. Come along for a few hours to a few days, the choice is yours. Set deep in the countryside and in very private, beautiful gardens. Please feel free to email me for more information about our next coffee morning or a weekend retreat, I'm sure once you have been you will be back again. Email LadyVBibby@aol.com or telephone Tel: 01261 851178
Ladies Who Dine - One to one personal make up and deportment sessions All day socials, Luncheons, Evening Meals Photo-shoots Shopping Trips Group Make-overs Restaurant Trips Laundry and storage service Ebay shopping for our Girls Web site design and hosting We have a large wardrobe of outfits in many styles, with plenty of wigs, shoes and boots up to size 12. There is also a vast range of corsets, underwear and lingerie to suit all tastes Make your dreams come true by visiting " Ladies Who Dine " in Dover, Kent. For more information Ring today from 10am - 8pm on 01304-201401, or visit the website at www.ladieswhodine.co.uk
Hidden aGender - Let Us Bring the Beauty out from Within - All aspects of beauty, make overs & photo shoots in the privacy of your own home or our Retford based salon, by qualified therapists. Companions for excursions, in and around the Nottingham, Lincoln, & Sheffield area. Be yourself for a day at our Retford based safe home. Pamper days. Storage available. Support & social evenings. Dressing service coming soon. Please Contact Dee at hiddenagender@googlemail.com or phone her on 07708300226.
Angel's Crossdressing Studio - Come and relax in my friendly studio and be pampered like you've always wanted. Let me help you transform into the women you always dreamed to be, in unrushed and discreet surrounding. You will find a large selection of clothing, with a choice of wigs and shoes. I will supply you with a complete makeup service to give you the finishing touches to your transformation. I offer a shopping service so if there is an item of clothing or anything you want to buy I can do the shopping for you. I am based in Somerset and if you would like further details please contact me. Call 07743 495143 please note this service does not come with any personal services. Hope to hear from you all soon.
'Gender Elegance'. A professional friendly makeover service in Belfast, Northern Ireland for those in the transgender community. Website: www.gender-elegance.co.uk Email: mail@gender-elegance.co.uk
Kinkys Closet - My name is Caroline and I run a dressing service in Glasgow, I provide a very private and discreet dressing service and also hold meet & greet nights once a month. see my website at www.kinkyscloset.com or telephone me on 07986 611419 10am-8pm Only
Dressupwithjules. We offer a friendly and relaxed atmosphere for your visit. You can choose from a wide range of outfits, shoes, wigs & accessories. Private, detached residence in Bury, Gtr Manchester & easily accessible to all motorway networks. Please visit our website www.dressupwithjules.co.uk for more information.

Translife we have been running our service for the last 18 months which also includes a B&B service and photographic service. The direct link to our page is... http://www.translife.co.uk/acatalog/Dressing_Service_-_Our_Approach.html

Manchester - 'I am a young gay driving instructor working in Central and South Manchester. Anyone wishing to have driving lessons with me will do so in a 2010 model Citroen C3 1.4 HDI VTR+. I am fully qualified and professional. I offer driving lessons in a relaxed environment free from discrimination. Additionally I will offer to sit in the back of practical driving tests to make the candidate feel more comfortable with my presence. Standard Lesson Prices are £21/hr, Students £20/hr, 10hr Block Bookings £19/hr, 20hr Block bookings £18/hr. To increase value to my learners and to speed up the journey to achieving the licence I conduct two hour lessons as standard. My contact details are: Nick Spruce DSA ADI Tel: 07989 188 430, E-Mail: nickspruce@hotmail.com or Facebook Group 'Nick Spruce Driving Instructor'. I look forward to hearing from you soon.
Manchester / Stockport - I am a young, gay, female driving instructor, ADI Registered and AA Approved, covering the Manchester/Stockport area. My aim is to create a friendly and comfortable learning environment for any LGBT person wishing to learn to drive! I offer learner lessons, pass plus, refresher lessons, motorway training and semi intensive courses. For more detailed information, check out www.gaydrivingschoolmanchester.co.uk, call me anytime on 07738 797524, or email at kj@gaydrivingschoolmanchester.co.uk

---
Tricia Green for Beauty Treatments including Electrolysis, Body Waxing, Facials, Eyebrow Shaping, Hand and Foot Massage. Over 25 years experience. Based from the South of Manchester. Appointments by arrangement, Telephone Tricia on 0161 973 3131
Euphoria Treatment Room Specialising in Electrolysis Hair Removal, based in Derbyshire. Discounted Rates for T.V's, T.G's, T.S's available. Free consultation in a relaxed atmosphere, completely confidential. Health Department Registered. Contact Stacey 07703 018416
Nicky J Pearce BSc (Hons), PhD, FRMS, ITEC, IHBC, IIHHT, MBABTAC, MGPBT. I'm an Internationally Qualified & Registered Specialist in the fields of Medical & Surgical Electrology. We offer Hair Styling, all beauty therapy treatments including acrylic nails. Holistic Therapies. Electrology & Advanced Cosmetic Electrology. Collagen & Sclerotherapy Injections. I am currently living and practising in Glasgow, and my Satellite Clinic owned by a dear friend in Blackpool, Lancashire. For a free no obligation quote call Nicky on 07963 425853 - Monday - Friday 5pm - 9pm or email nickyjpearce@hotmail.com - Home visits in and around Glasgow. Evening and week end appointments available. See my website at www.naturalartsgroupuk.webitsmart.co.uk
EpilSoft Electrolysis Clinic : Electrolysis is the only proven method of permanent hair removal for any hair or skin, anywhere. Using the powerful computerised Apilus electrolysis machine and best quality Ballet gold or insulated probes enables permanent results quicker and more comfortably than ever before possible. Situated on the Surrey/W Sussex border just south of the M25 the Clinic is within easy reach of London and the South. - http://www.epilsoft.co.uk/electrolysis_for_transsexuals.html
Pixie Beauty - Hayley Marshall. Based in Hull, Eas Yorkshire and within reach for Yorkshire and Lincolnshire. Fully qualified Beauty Therapist for over 10 years, offering a full range of beauty treatments but specialising in electrolysis - particularly for transgender and transsexual clients. Friendly and understanding environment. Professionally trained electrolygist in Blend methods - facial and body hair clearance as well as hair removal for pre-surgery preparation. For more information, see http://www.pixiebeauty.co.uk or call Hayley on (07790) 066461 or (01482) 222628 to discuss and arrange consultations and treatments.
Gender Transitions. A professional and caring range of services within a friendly home environment. Many years of experience specialising in electrolysis for transgendered people. Member of the British Association of Electrolysists. Apilus Computerized Electrolysis for increased accuracy as well as comfort, as well as classic diathermy. Facial, body and genital hair growth successfully removed. Contact Sara Thomas on 020-8933-6487 (NW London) or email mail@gendertransitions.co.uk or visit website at http://www.gendertransitions.co.uk
---
Fully qualified nail technician based in the north Liverpool area working from home, or mobile, very discreet and understanding professional service, offering a full range of services from Manicure, file and paint, party nails, and full sets of acrylics all at very reasonable rates, To contact me call: 07767 053776, or email on: paula_and_gill@yahoo.co.uk
Sam's Unisex Hair and Beauty Salon, Comfortable false nails fitted for you by Mirella Ruggeri at Sam's Unisex Hair and Beauty Salon, Old Kent Road, London, SE1 Tel. 020 7237 3313.
For more information contact Stephenie Robinson. Tel. 020 7207 8473 - Mobile 07957 558859 or e-mail la-zarus@lineone.net
Nail On Nail - I am a fully qualified Nail Technician working from home; I can provide a discreet & professional service in Manicures, Nail Extensions and Nail Art. I live in Amble in Northumberland which is about 27 miles North of Newcastle. For further details of prices and times available you may email me. dorsetdoll@hotmail.com

---
Kari - Concord Member No.662 is a Finance Broker arranging personal loans, mortgages and remortgages and offers a sympathetic ear to complicated cases. For more info telephone, during normal business hours to 0161 484 0200 or mobile 0771 426 7850.
Paul Robertson & Co. - We prepare books, vat records, payroll, small audits, accounts, pension and mortgages, we basically cover all aspects of finance. And most importantly we are Northern Concord friendly! Write or telephone to see if we can help you. Our address is, Paul Robertson & Co., Navigation House, Slake Terrace, South Shields, NE34 0AE -
AF Accounting Business Services - Sole traders, Partnerships, Limited Companies. Low cost accounting solutions We can prepare your management and annual accounts, provide on going book-keeping service, self-assessment, CT600, vat returns and payroll, AND provide added value business services including new limited company formations, company secretarial, business plans, cash-flow and forecast reporting. Contact: afabs@ymail.com 07718 602949 or 01274 830246 for a free initial consultation.



---
Foundation Garments & Lingerie
La Petite Boutique - The little shop with a big range - Lingerie, Swimwear & Accessories. Website at www.lapetiteboutique.co Telephone 01422 292 911 - Out of hours appointments available by prior arrangement. Normal hours between Tuesday and Saturday. Address: 37 Stainland Road, West Vale, Greetland, HX48AD.
Hour Glass Figure A beautiful range of lingerie, swimwear and breast forms selected specifically for the cross dressing community. Fitting advice available from one of the best bra and breast form fitters in the UK. www.hourglassfigure.co.uk or Tel: 07970 075964.
Axfords. Corsetry. 82, Centurion Road, Brighton, BN1 3LN.
Telephone 01273 327944 and ask about their excellent catalogue priced at £10.00.
Chantilly. The Corsetry & Lingerie Specialists, 2 Cheetham Street, Rochdale, Lancs
Tel. 01706 649012
Evans Ltd. The Evans clothing store has it's own on line ordering service, from top to toe including shoes and underwear. The shops are in most High Streets throughout the country, but for a bit of privacy if you need it try their mail order system. Their web site is at www.evans.co.uk
Femelle Lingerie. Made to measure lingerie.
Tel 01376 344065
Touchable. Lingerie, Corsetry (including made to measure), plus stockings, tights, fully fashioned nylon stockings. Write to P.O. Box 100, Eastwood, Nottinghamshire, NG16 6PQ.
Telephone 01773 711999 for catalogue.
Vollers Corsetry. 112, Kingston Road, North End, Portsmouth, PQ2 7PS, Telephone 01705 799030 and ask about their excellent catalogue priced at £10.00.
Woods of Morecambe. Lingerie. Catalogue available with free postage in the UK. 42-44, Queen Street, Morecambe, LA4 5ZZ. See their website at www.woods-online.co.uk
Telephone 01524 840084.
X Dress - Suppliers of sensual silk and lace knickers in men's sizes. An exclusive range of lingerie designed especially for men who want to express their feminine side. Our lingerie is designed to fit perfectly and is made of silky fabrics edged with lace that will delight. See their web site at www.xdress.com
Petticoat Dreams - At last a full range of petticoats available at reasonable prices! If you require further information on any of our products please contact us (preferably by e-mail). We are a web based retailer and do not have a shop at this address. E-mail - info@petticoatdreams.co.uk Telephone - 0131 225 6107 (Mon - Fri 9:00am - 5:00pm) Our address: Petticoatdreams, 35/1 George IV Bridge, Edinburgh, EH1 1EL
Translife - Obtaining the correct shape is half the battle to a convincing look. You may wish to use a corset or other form of shape wear to achieve the desired look no matter what you final selection may be we are confident we have one that will catch your eye! So why not drop in and see us at http://www.translife.co.uk
BodyExposed are stockists of Body Aware and Xdress underwear for men, designed and manufactured in California and Arizona. Of British origin, the firm previously had a factory in Trowbridge, Wiltshire, but this facility was moved to the USA in the 1990's. Xdress styles include panties, skirts, corsets, bras, and other accessories all designed specially for men to wear. They are available only from Body Aware (in the USA) and BodyExposed (in the UK), and are not available in the High Street or from any other websites. BodyExposed import these products from the USA, to provide UK and European customers with next day delivery, and no import fees! See the website at www.bodyexposed.co.uk
Have you seen the blow-up bra's that 'Gossard' used to make? Another good invention down the drain. Click here to go and have a look.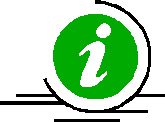 ---
Can you suggest other names and services
we might display as a service to our readers?
Are any of the details wrong?
Please let us know.
Send your ideas to The Northern Concord,
P.O. Box 258, Manchester, M60 1LN
or E-mail JennyB@northernconcord.org.uk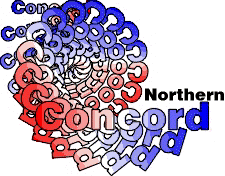 1987 - 2019
Working for the transgender community for the past 31 years